Posted by
Scott Mensing

| Posted in | Posted on Tuesday, December 28, 2010
During the summer of 2008, Bo first stepped onto our Kansas property and immediately began running trail cameras, only to get thousands of pictures of numerous quality bucks. One of the first, and most visible, was a heavy nine point with kickers and long tines. After the first dozen or so pictures, his main identifiable trait was his crab claw G4. Based on body size compared to other deer on the property, Bo knew this buck was only a 3 1/2 year old and decided that this buck would get the pass.....hoping that he would continue to call this property home and grow into a true Kansas giant. And so the story of the Crab Claw 9 begins.


My first trip down to the property was in the spring of 2009 to help Bo shed hunt the thick draws and seven-foot tall CRP. I love shed hunting, but when we stepped onto this property, I thought we would never be able to find an antler hiding in the tall grass. Not long into the search, I spotted what looked to be a brow tine laying in a thick clup of grass next to a creek crossing. As I approached the shed, I realized this was the biggest side I'd found and when I raised it up, Bo knew exactly who it was - the Crab Claw 9.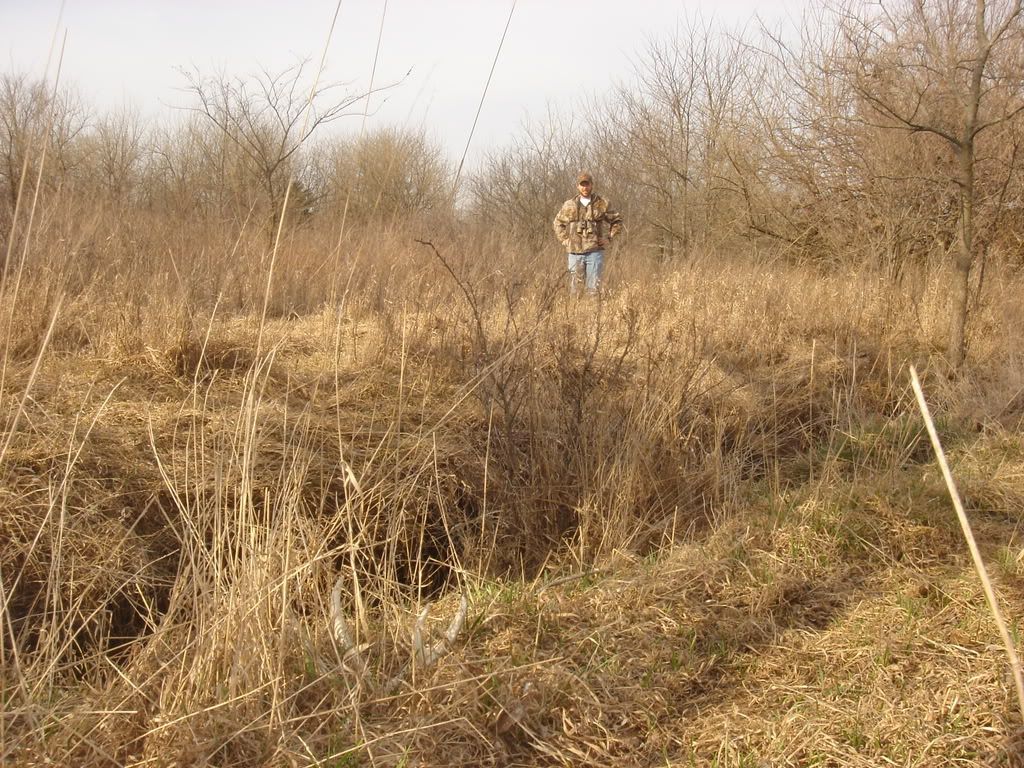 We searched and searched for the match, but fortunately on Bo's next trip down to the farm with another friend, the match was found 150 - 200 yards away.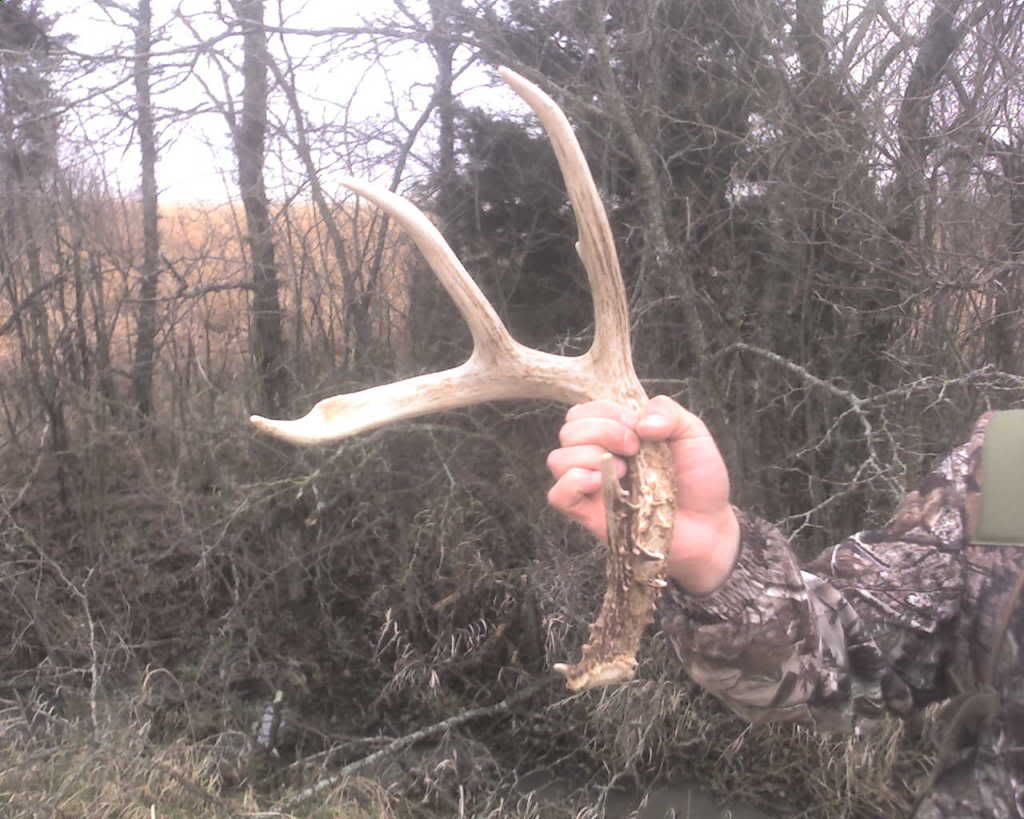 With CC9's 3 1/2 year old set on display during the summer of 2009, we could only imagine how much additional growth he would put on during that year. Again, we ran half a dozen cameras on this small property, only to find out that once again, CC9 was running with his best summer friend, Potato Digger. These two bucks were ALWAYS together. Every single time we would get a picture of one, the other was right behind. But that would all change come mid-September when PD would push CC9 onto neighboring properties. But every now and then CC9 would show up on camera to prove that he was still alive.
During the fall of 2009, we never had an encounter with CC9 while on stand and we did not find either of his sheds the following spring. We were beginning to think that maybe CC9 had met his match and not made it through the season. But that changed when we began talking with our neighbor Craig. We found out that PD had pushed CC9 over to his farm and CC9 was still a regular on his farm and growing strong. Craig ended up finding both sides to CC9 on his farm that year.
Since we had not seen CC9 on our property in nearly eight months, we were pumped to see him running with Potato Digger again this past summer. Not only was PD still displaying his domanance, but CC9 had put on A LOT in the past year. This buck was now pushing 180 inches and had a six inch drop tine, which he broke just as he came out of velvet. He had indeed grown into a Kansas giant!
Just as in years past, once mid-September came, CC9 moved due to PD's dominance. However, this fall CC9 moved north....way north. This buck actually moved over a mile north of this typical core area. We were not sure if this was due to a hot doe that led him north or just the dominant nature of other bucks in the area. Either way, after mid-October, we had not seen any evidence of CC9 on our property.
As we hunted through the November rut and the December gun season, we still had no evidence that CC9 was still alive. That was until the night of December 9th when Bo's father spotted CC9 standing in the driveway of our property as they were passing by. In an instant, the ghost had returned! After this encoutner, CC9 showed up on camera just like his old self. Since Bo had harvest Potato Digger earlier in the season, CC9 did not have that dominant presence to compete with anymore.
And on the evening of Christmas Eve, CC9 made one of his few and far mistakes. Our neighbor Craig was sitting in the NE corner of his property with bow in hand and at 4:00 PM, CC9 stepped out of the cedars. After a little cat and mouse and nearly winding Craig, CC9 walked right under his stand and presented the perfect quartering away shot at 20 yards. The arrow flew true and the final chapter on a great story was finally written.
It will be odd shed hunting and running cameras in 2011 knowing that we will not have any more encounters with CC9 or Potato Digger. These two bucks were legendary to the property but now hopefully a few new Kansas giants will fill their voids and give us a new challenge for the 2011 season.