Posted by
Vince Crawford

| Posted in | Posted on Saturday, July 09, 2011
Warming up the Trail Cameras

I don't know about you all, but I am getting WOUND UP about deer hunting. I can't believe how much I am thinking about stand placement strategies and prevailing winds already!

I have had one of our trail cameras out for two weeks now, collecting photos on the main farm our family hunts. We don't run into the biggest bucks out there, but our expectations are not too high either to be honest with you. You also have to keep in mind, our number one reason for having permission on this farm is "crowd control" for the landowner. He wants to know when we see deer, and how many we get. He has had other hunters on the farm, and has removed them for not killing enough deer. Our family likes eating deer, so our relationship with the landowner is a great one.

Here are a few of the bucks we have caught hanging out so far this year.

This is a straight 10 pointer that is our biggest racked deer, and biggest bodied deer on camera so far.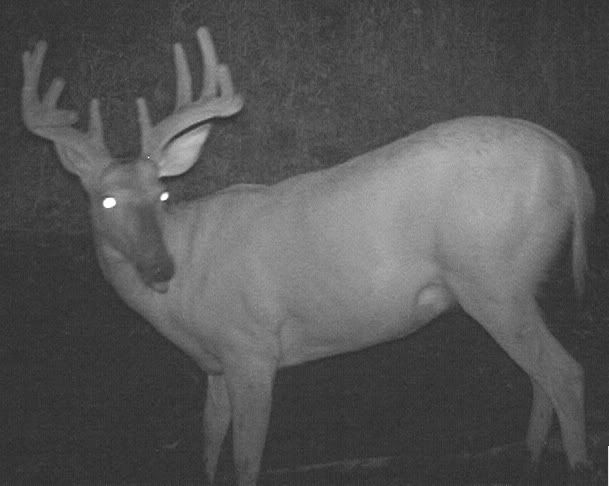 Here is a wrap-around straight 8 pointer that the boys and I really like. He's got long main beams, and is the most frequent buck to this salt lick. I hope the beams continue to wrap around even a little further as this rack finishes out at the end of the summer.




This is a split brow tine 9 pointer that we see hanging out with the wrap-around 8 quite a bit. He is obviously not happy about sharing that salt lick at this moment. This other smaller buck was growing into a wide 6 pointer, but he broke his main beam on the one side around the first of June. Tristen and I saw this buck in person this last week, and the broken main beam is still firmly attached while 'hanging' down.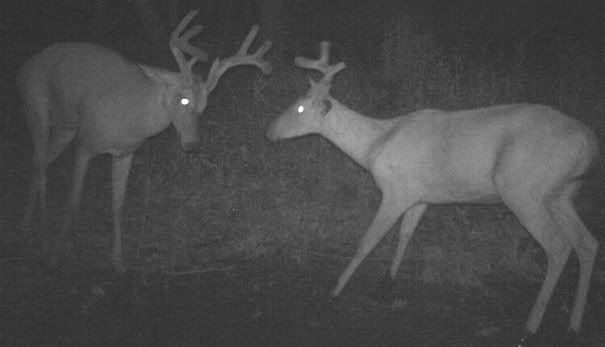 We will continue to watch this farm, and add some cameras to our other farms to see where we should be spending the most of our stand time during the early archery season. Tristen has saved up enough money to get a really nice climbing treestand, so he will be much more versitile this fall in the areas he gets to hunt.

The End of Flatheading for 2011

My friend Luke invited me to jump in the boat with him in early June to set some more trotlines for flatheads. We ran lines for three nights, and had great luck catching some nice fish with the anchor being a 49 pounder Holly is holding up below.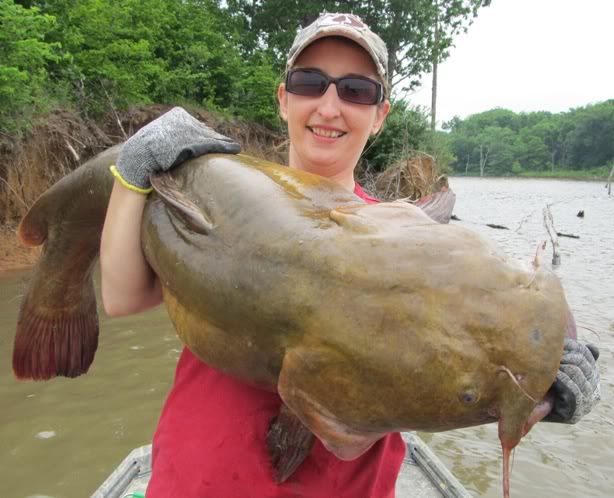 We were very thankful Luke took us out, especially when both of the boys were with me one of the mornings. It was the first time we had caught three nice fish in a morning when both of the boys were along for the ride. Here's our success photo! Kable was CRANKED BACK holding up that nice fish of his!




Training a 7 month old Goose

Goose's training has been going very well. I'm not going to tell you she it without flaws, but she is doing wonderful for as good of a trainer she has.

Since we have stopped shed hunting, I have switched her training to a more 'traditional' approach of retriever work for waterfowl hunting. I am not a big waterfowl hunter myself, but the boys LOVE it. Goose still chews on her sheds when she is just hanging out, and I will hide them around the yard for her at least once a week.

Just within the last two weeks, she had decided she really enjoys retrieving her bumper out in the water, and begs you to throw it for her just ONE MORE TIME.

She still likes to search heavy grass and wooded draws for antlers (bones) though, while we are making our way to and from the water holes. Here is a picture of her looking up from a tall grass search.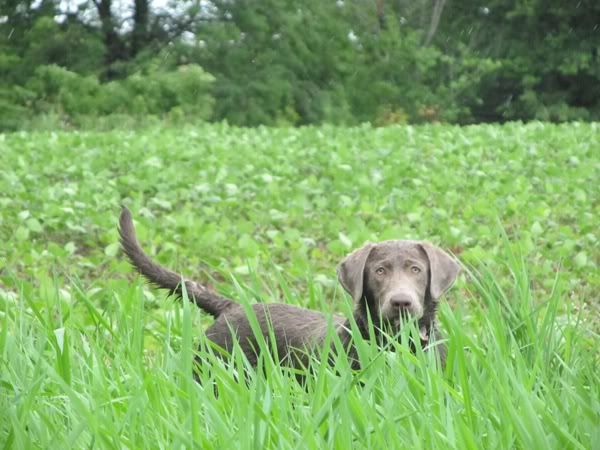 And here is a look at her.......ironically.......looking over a flock of geese.




She is a very well mannered pup for her age, and we are very happy to have her along for our adventures. I can't wait until she is a little older, and knows exactly what I'm trying to tell her, and I know what she is trying to tell me! I weighed her in yesterday at 62 pounds. I don't think she will get much bigger, as her mother is 65 pounds, and her father is 70.

I also have my head buried in yet another dog training book right now. It is called Tracking Dogs for Finding Wounded Deer by John Jeanneney. This is a GREAT book about blood trailing and blood tracking deer. It goes into great detail about wound types, and tells you the author's researched experiences not only about using dogs for recovering game, but also what he has learned over this research about what certain blood signs will tell you about a specific type of wound. There is no other book out there that compares to this read. I am only half way though it, and I can tell you, it is a MUST READ for any ethical bowhunter. I tried to find a cheap, used copy of this book on the internet, and I couldn't find one. Now I know why, because anyone who gets their hands on a copy of this book is not going to let it go.

I don't expect Goose to become a professional blood tracker, shed hunter, or waterfowl retriever. I am just expecting her to be a great part of our family, and a great part of our wildlife adventures.