Posted by
Vince Crawford

| Posted in | Posted on Monday, August 01, 2011
Deer Season Planning

Its hard to get outside, and hard to stay inside all the same. We have not fished near as much this year as we have in years past because of the heat, but we have spent more time planning our hunting plans because of it.......both in the field, and on the computer looking at aerials and trail cam photos.

We have our trail cameras spread out through several different farms, hoping to catch a nice buck one place or another. While placing cameras, we have also been discussing stand locations, especially since Tristen will have a climber to use to his advantage this year. He has almost convinced me that I need one too.

We have been blazing trails from one stand to another using string trimmers and mowers. We don't have any big equipment to use to our advantage, but we like having trails to walk from one stand location to another to keep noise and scent to a minimum when season rolls around. There is also some poison ivy spraying going on while we are doing our clearing. The deer quickly catch on to our 'path of least resistance' and use the same trails.

Most of our trail camera pictures are of does, and the fawns are starting to hang out with them more every day. We did pick up this group of bucks hanging out right by one of our stands this last week though. One of the bucks is the wrap around 8 pointer that we have been keeping tabs on. He is very photogenic, and it was nice to see them all this evening, hanging out by the stand for over an hour.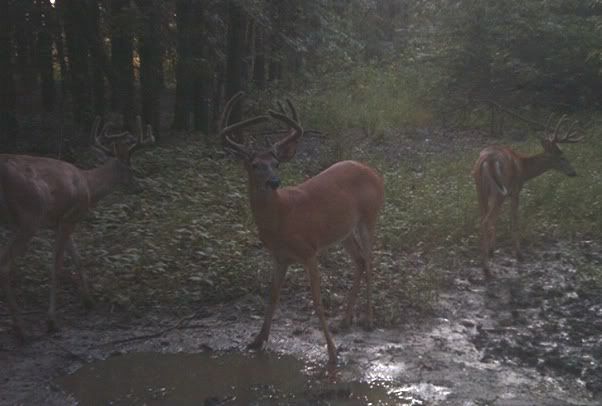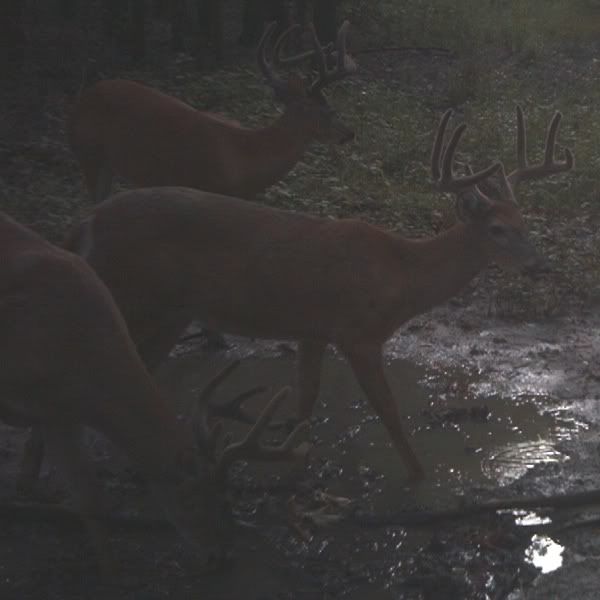 If you happen to have any interest, I will be putting on a Missouri Bowhunter Education Course just north of Smithville Lake near Plattsburg, MO next Saturday, August 6th. For more information, just contact me by email (vectorcalls at yahoo dot com) or phone.

I will also be presenting at the Jerry Litton Center at Smithville Lake on the 27th of August at the Deer Management Workshop. If you would like to attend, please RSVP my friend Paul Lowry so there will be plenty of supplies, reading material and seating on hand for everyone that attends. Paul's contact for this meeting is his email address: paul.lowry@mdc.mo.gov

Tristen and I will continue to work on shining up our archery shooting in August, and we will work on moving some permanent stands around, along with clearing their shooting lanes. We like to have the woods be completely person-free for 2 weeks prior to the September 15th archery opener, so we will be getting a lot of work done between now and then. Holly is also planning on using her crossbow this fall, so we will all need to learn how to use this new peice of equipment.

Other WILD LIFE

I had this bobcat make a quick run through the same camera's range. There are plenty of squirrels and plenty of bobcats on this property, so I'm sure they meet like this quite often.




During my outdoor adventures here and there, I came across a couple interesting subjects this month.

One was this little frog. A buddy of mine who is much more of a herp man than I am, says it is a brown tree frog in a green color phase rather than a plain ol' green tree frog, as they are only found in southeast Missouri.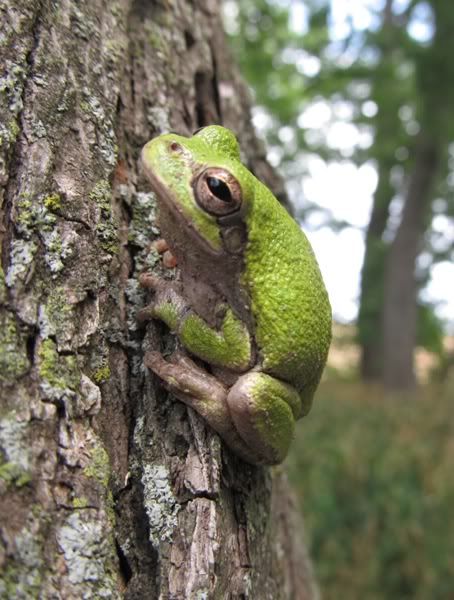 This next photo was an interesting one for me for sure. It is a pink katydid. I researched it a little on the internet, and I guess the color phase is similar to being albino, and happens in about 1 in every 500 katydids. Those are my blackberries its standing on.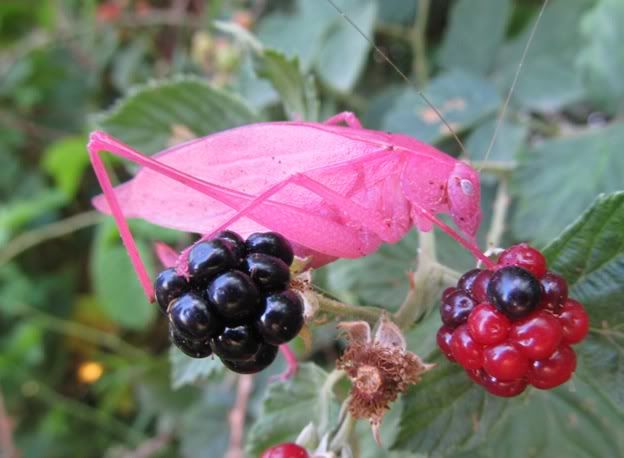 Goose Training

Goose is a little over 8 months old now, and she has been doing great for us. I have not had an opportunity to get her on live birds yet like I thought I would, but its my understanding she was "helping" Tristen chase some chickens here a couple weeks ago. OOPS!

She is continuing to do a great job listening to her commands, and really does an outstanding job of searching an area of taller grass when she has trouble finding her bumper. I continue to be impressed with how well she uses her nose when she needs to.

Any time she gets too excited about a situation, we can always bank on her sit command. She listens to it perfectly, and we can move forward from there.

Here's a photo of her at one of our local watering holes after she was done with water training for the morning.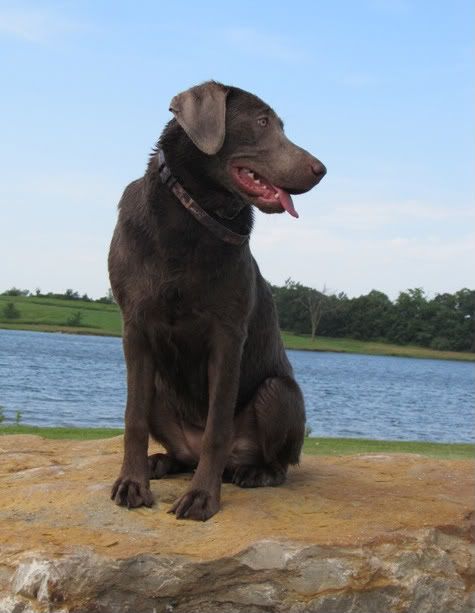 Kable was with us for this training too, so he got the camera to take some action shots as we were working the water. He quickly figured out that he wanted an photo of her shaking the water off from her swim. This is his successful shot that he is very proud of.