As most of you know, Bo and I took the 2009 pretty seriously when it came to recording our adventures in the field via trail cameras, photography, and film. We felt that we needed a new format where we can not only journal our accomplishments, failures, and field experiences, but also allow family and friends to follow our journey as the season progresses. It has become quite evident that bowhunting is not only a passion to us, but it has become our lifestyle. So please keep in touch, add comments, and follow us here to see what is new during our Midwestern Bowhunter adventures.

Here is a quick recap of the 2009 season. It was painful and stressful, but extremely rewarding. It was a season of many firsts and will be a great stepping stone for our future hunting careers.

My first Kansas harvest off of our 80 acre lease.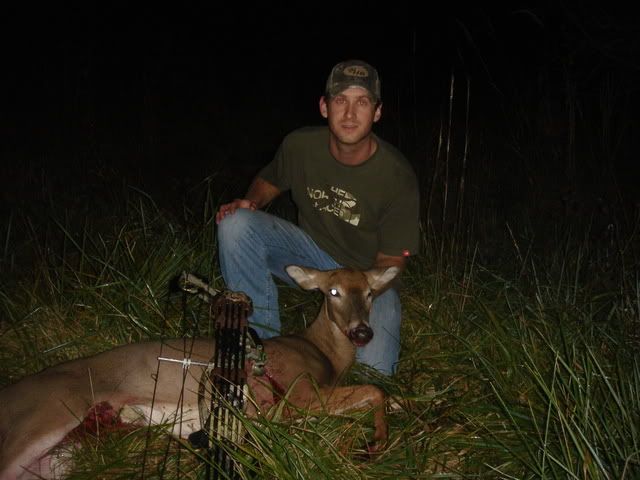 Bo's 173" MONSTER. This buck was aged as a 5.5 year old and weighed in at nearly 300 lbs on the hoof. This buck had a 22" spread and 9" brow tines and was brought into bow range due to a few grunts from the VECtor grunter. This was Bo's first P&Y (and B&C for that matter) bow kill in the Midwest. Definitely a hard earned buck!
Bo's first doe off of his new food plot behind his house.
My Missouri bow kill during the orange army invasion. This buck came in hard to the VECtor grunter and ended up scoring 138". What he lacked in tine length, he had in mass, as he measured over 35" of mass.
My late season QDM harvest.
Bo's late season Missouri buck shot during his first morning at a newly acquired property. Bo had pretty high expectations for his first sit on the property, but neither of us thought he would actually see a shooter buck within the first couple hours. This buck scored 133" and had really impressive tine length. This buck was Bo's first Missouri buck.