A little over a week ago, Scott and I spent a little time turkey hunting with our friends Lee and Chris Schmidt. They are our KS neighbors and are quite the father/son hunting tandem. Unfortunately, luck was not on our side and the turkey hunting was the slowest it has been all year. The birds just weren't there. Nevertheless, we had a really nice time and it was good to hunt with friends. We spent the majority of the morning touring their property and doing some sporadic calling. What a beautiful place they have!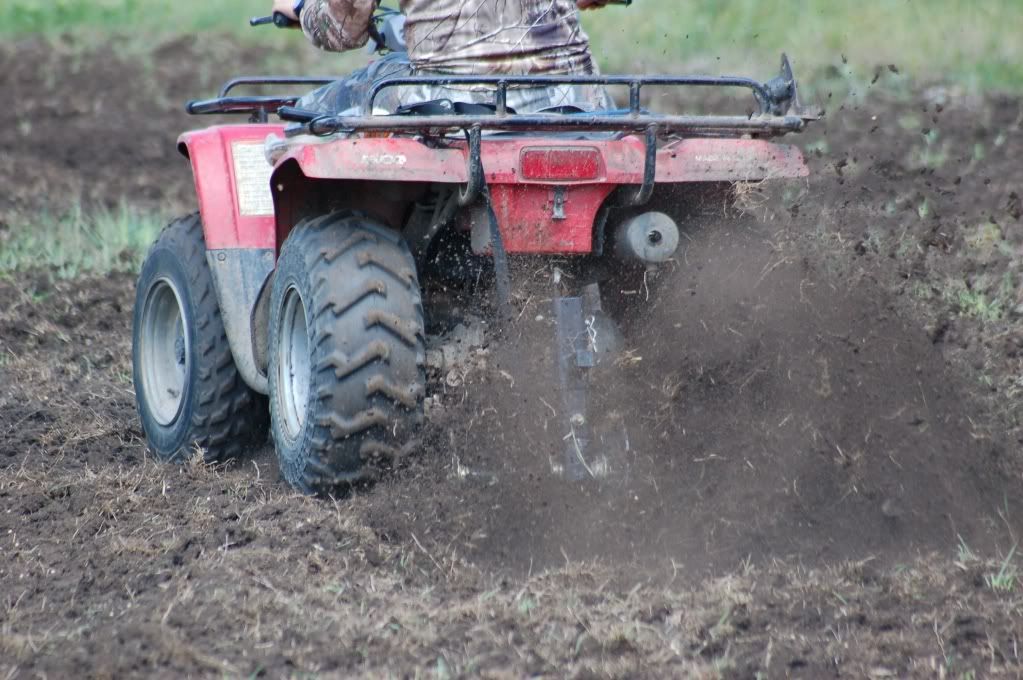 We hired a local farmer to come in at the beginning of April to do some discing for us. He tilled up about an acre and a half for us and did a really nice job. The week before we went down to plant, Lee and I sprayed roundup on the new weed growth that had attacked the plots. When we went down this time, I hooked up the Groundhog Max disc to my 4 wheeler and redisced it to loosen the soil up again.
After I retilled the soil, Scott loaded up the seeder and broadcast some Roundup Ready Soybeans into this 3/4 acre plot. I then disced it again in order to cover the beans. With any luck, the deer will leave some of them be during their early stages of growth so that we'll have a nice stand of them to hunt over in the fall. There isn't much out there that is any better than late season standing soybeans! We plan on overseeding some rye into this plot in August to give the deer something to munch on during the drying period that the beans will go through.